No running back, no ring


Denver has been labelled as Running Backs heaven many times in the past. The Broncos have gotten 1,000 yards out of worthless pieces of junk, Tatum Bell and Reuben Droughns for example. In fact if you were to give the Broncos a used carton of Orange Juice, the used carton would probably run for 1,000 yards. We see that the running back position is, and has always been a big part of the Broncos offense. However the Broncos could be in a running back crisis, something that would scar the offense for the rest of the season. In this article, I will emphasize how important it will be to draft a running back.

The Denver Broncos came into the 2007 season thinking they had found their workhorse running back in Travis Henry. Henry had come off of a 1,211 rushing yards season behind a mediocre Titans offensive line. The thought was that if Henry could manage that behind a mediocre line, he would do far better behind a better, running blocking wise, Broncos offensive line. The Broncos offensive line had problems; however Henry's problems had nothing to do with the Broncos offensive line. You see, Travis Henry is an idiot who has the same IQ as his jersey number (#20). The man has no idea what a condom is, and he either smokes something he shouldn't be smoking, or he is around people who smoke something they shouldn't be smoking. Joking apart, Henry has several off-field issues that the Broncos aren't going to put up with. Henry was leading the league in rushing, but his off the field issues and him being prone to injuries prevented him from getting any further. Now setting aside his off-field problems and injuries, Henry is a pretty good running back. He will never reach the elite status because he is injury prone and he can't hit anything above 1st gear. A running back needs to be able to hit at least 2nd gear to break big runs. Also it is important not to forget that next October, Henry will be 30, a dangerous age for running backs. Recently the Broncos restructured Henry's contract, many believe this means Henry will be here next season. However it is most probable that the Broncos restructured Henry's contract so it would be more economical to cut/trade him.

This brings us on to the young gun, Selvin Young. Selvin is a very mouth watering prospect at this point in time. However the obvious question is "Can he carry the load?" The simple answer to that would be no. The few games that Selvin DID carry the load, he either didn't play or played injured the next game. If Selvin can't take carrying the load once in a blue moon, how is he going to carry the load over a 16 game season? The point is Selvin can't carry the load; Selvin will never be the feature back in Denver or anywhere else. Once a back starts getting worn out after not that much playing time, he starts to fumble more and falls on his butt more often, think Tatum Bell. However if you took away that one negative of Selvin, he would have serious potential. However that negative is there and will always be there. Despite this, Selvin is fast, shifty and elusive. Do you really want to attempt to tackle him or do you just want to sit down? Selvin's jukes and spins are very tricky to handle. Selvin Young was second in avg yards per rush for all rookie running backs, only behind Adrian "AD" Peterson. Selvin would make a very good backup and a good rotation back.

Then there's Andre Hall. Andre had one good game and one long run in another game, however we know nothing more of him. All we know is he does a good job of Kick Returning and therefore he should be on the team unless someone better arrives. Andre Hall is quick and can make people miss. He's a good spare guy to have.

So now we've taken a look at all the running backs the Broncos currently have listed on starting roster. Which one of them can honestly step up? Do you REALLY want to have to rotate guys? If we were to rotate guys what would happen if Travis gets in more troubleand gets suspended and then Selvin gets injured from carrying the load? What if Selvin or Travis doesn't show up performance wise next season? Is rotating running backs regularly at least acceptable for success or is a workhorse back combined with a back who gets a few carries a game better ? Questions questions questions.

These questions can all be answered in one draft pick. The Denver Broncos offense can have the second to final piece, a left tackle being the other piece, needed to make this offense great in one draft pick. The Broncos can have a future "lead the league in rushing" running back with one pick. All they need to do is select Jonathan Stewart with the #12 pick. I'm not here to persuade you into why the Broncos should draft Jonathan Stewart over Rashard Mendenhall, I'll leave that to one of our draft analysts. But I will argue why the Broncos should draft a running back over a Linebacker or an Offensive lineman.

Now I've been complaining about our offensive line for a while now, what needs to be understood is that this draft class is full of first round quality offensive tackles. Drafting a quality offensive tackle in the very late first round or early second round will be possible. The options are to try and get another first round pick, or to try and trade up for a higher second round pick. Both are options that could occur depending on circumstances that could possibly arise over the off-season. Pairing a young QB, a young RB, a young WR and a young LT will let the future of the offense bond together. Then to address some other needs, the Broncos could pull a trade for Marcus Stroud, sign WR Bryant Johnson and draft a young linebacker by acquiring a third round pick. This would put the Broncos in a good position because the major needs will be filled with young talent.

Do you see what Adrian Peterson and Marshawn Lynch have done in their rookie season? Wouldn't you like that for the Broncos? Or would you like to be like the Detroit Lions, close but not close enough, failing miserably because you have no running game.

As we can see, the Denver Broncos running back situation is shaky to say the least, there are many questions and many risks that could blow up in the Broncos face and ruin their season. A Broncos offense without a running game is a Broncos offense going no where. Addressing the running back position by drafting Jonathan Stewart would provide quality at a key position. The Broncos could then fix all other problems this off-season and next off-season.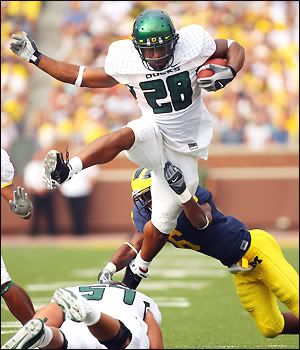 Labels: broncosforums.com, denver broncos, Jonathon Stewart, Selvin Young, Travis Henry